Today I decided what my next culinary challenge will be, but the recipe calls for raisins and I've decided to omit them. Then it got me thinking about desserts I don't like (which is strange, because usually I talk about food I like :P).
Anyways, yeah.
1)Desserts with raisins in them - it doesn't matter what it is, even if they try to conceal them! You eventually find it, chew on and it, and bleeeeh. Dessert is ruined. This is especially the case for Oatmeal Raisin cookies (or any other cookies that have raisins in them) and cinnamon buns with raisins hidden in between each successive rolled layer.
The texture of the raisin is different in both cases:
a) in the Oatmeal Raisin cookie
the raisin has shrivels, dries up (more than it was before, if that's even possible) and so is this hard thing that you bite into...and tastes terrible.
b) in the Cinnamon bun,
the raisin soaks up lots of juice. It's like the raisin is trying to revert back to grape form, but it fails. So it's just kinda unpleasant and gross. If I wanted grapes, I would eat grapes.
Retrieving them is not so fun either...for your hands get really sticky.
I feel the same way about dried cranberries. :P
2) Liquer Filled Chocolate
I probably shouldn't generalize this one, but some liquer taste really gross inside the chocolate. Like unless it's really fruity and festive, imo it gives a really peculiar taste.
Please refer to Gad Elmaleh's sketch at around 1:10 to 1:50
3)Jello and its gelatinous friends
As a child, Jello was my last resort dessert. If it was the only thing left at the buffet, that's what i'd have. I even had difficulty eating it when the doctor told me (in the event of stomach illnesses). It's not really the taste (which is for the most part sugar and artificial fruit flavoring), it's the texture.
And that leads me to the friends of Jello. Not that they necessarily have gelatin in them, but they have a similar texture.
a) Bibingka Cassava (Cassava cake)
apart from ground cassava used in west african food (which I really like), this was my only other exposure to cassava. I had it 5 years ago while visiting a person's place. Perhaps it's because it didn't have a cakey texture at all. I can't even really describe the taste...I just know eating it wasn't fun.
b) These little glutinous rice cupcakes?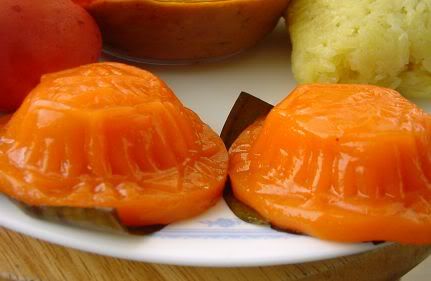 I had them at a karate bake sale. The kid who brought them was really excited, gave me one. I tried it - mouth full "It's great! :D"...*disappears and disposes of it* I did feel bad though :)
There are three instances that I eat Jello/jello friends - Fruit jellies (they have actual fruit in the center!), in vietnamese drink Three Colors (it has green jello worms) and as a glaze on cakes (typically cheesecake or mousse cake)
4) Licorice
All types, but especially black licorice. Apart from the dessert I will name next, it's the nastiest thing I've ever tasted.
5) Fruit Cake - I'm not talking about cake that has actual fresh fruit on it,
I'm talking about that one that plagues grocery stores at Christmas and for some strange reason is often part of wedding cakes (I've been told it's for stability purposes, especially when it has columns supporting each layer).
Whatever fruit is in there does not resemble fruit anymore - in shape, taste or texture. Even the surrounding cake tastes like pure elemental nastiness. The only one that's even slightly tolerable is the one that only has cherries in it or the jamaican fruit cake (it also doesn't have those yucky alien fruit in them).
But ok, I've asked many friends if they like fruit cake and they all don't. Clearly, there's a market for it...I've noticed that it's always parents that like them. My parents do, my friends parents. So I'm wondering: is there a point in time where people suddendly like fruit cake? Like, do you have kids and then like it? I'd like to know and try to prevent this from happening.
I think that's all I can think of for now. If you have any other gross desserts, please name em :) I'm curious.